HOLIDAY SHIPPING SCHEDULE
The following days will not count as business days towards delivery times Shipping companies will be closed. UPS does NOT pick up or deliver on these days:
UPS Schedule 2018-2019:
Thursday, Nov. 22 Thanksgiving Day
Tuesday, Dec. 25 Christmas Day
Monday, Dec. 31 New Year's Eve
Tuesday, Jan. 1 New Year's Day
Monday, May 27 Memorial Day
Thursday, July 4 Independence Day
Monday, Sept. 2 Labor Day
Atlantic Cigar Co. will also be closed:
Thursday, Nov. 22 Thanksgiving Day
December 24 - 25 Christmas Eve & Day
Monday, Dec. 31 New Year's Eve
Tuesday, Jan. 1 New Year's Day
Monday, May 27 Memorial Day
Thursday, July 4 Independence Day
Monday, Sept. 2 Labor Day
SHIPPING CUT OFF & PROCESSING TIMES
All U.S. orders placed before 4:00 PM EST (Mon-Fri only) will ship the same day, pending credit card approval. Orders shipping via USPS Priority Mail must be placed before 1:00 PM EST. Atlantic Cigar does not ship to Utah, South Dakota and France.
SALES TAXES:
We are required to collect and remit sales tax in the following states. Remittance of any taxes on orders shipped outside of these states is the responsibility of the purchaser.
California, Connecticut, Colorado, Georgia, Hawaii, Illinois, Indiana, Iowa, Kentucky, Louisiana, Maine, Maryland, Massachusetts, Michigan, Minnesota, Mississippi, Nebraska, Nevada, New Jersey, New York, North Carolina, North Dakota, Pennsylvania, Ohio, Oklahoma, Rhode Island, South Carolina, Tennessee, Texas, Vermont, Virginia, Washington, West Virginia, Wisconsin, and Wyoming.
DELIVERY OPTIONS
Your Shipping Options are as Followed:
UPS Ground: 1 - 6 Business Days
UPS 2nd Day: 2 Business Days in Transit
UPS Next Day Air Saver: 1 Business Day in Transit - Delivered End of Business Day
USPS Priority Mail: 1 - 6 Business Days, includes Saturday
SHIPPING RATES UPS GROUND SHIPPING:
Domestic Orders - UPS Transit Times Map Below
From $0 to $99 - Flat Rate of $7.95 Per Order*
From $100 to $199 - Flat Rate of $5.00 Per Order*
Orders Over $199 - FREE UPS Ground Shipping*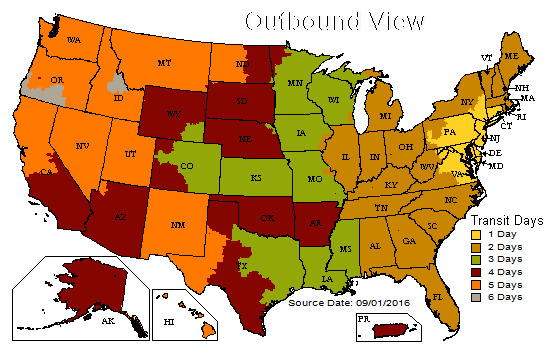 UPS AIR SHIPPING:
Domestic Orders
UPS 2nd Day Air: Flat Rate of $16.95 Per Order
UPS Next Day Air Saver: Flat Rate of $29.95 Per Order
*No limits on number of products ordered. Some larger, heavy items such as Humidors may carry an additional shipping fee. In most cases we ship using UPS, we also offer Priority Mail by the USPS for P.O. Boxes, APO's, FPO's and International orders. Please Note: *UPS Does Not Deliver Packages on the Weekends. Delivery Estimates do not take Saturday and Sunday into Account or the Day the Order was Placed. We do not issue service refunds for Holiday or Weather related delays, or other delays outside the control of Atlantic Cigar or the carrier you choose.
USPS Priority Mail - By United States Postal Service
Shipping for USPS Priority Mail - Shipping times are estimates. USPS is not a guaranteed service, no shipping charge refunds for shipping delays. Shipping time can take up to 8 business days.
Military Shipping APO & FPO's
We support our Armed Forces, and will ship to APO's / FPO's Worldwide.
FREIGHT SERVICE – For Heavy Items
A Freight service is used on large humidors & cabinet humidors; you will be notified on freight shipping cost prior to us shipping the item.
INTERNATIONAL SHIPPING
We verify all customer's information prior to shipping, if we cannot prove you are the legitimate owner of the card being used, we reserve the right to cancel your order. All International Customers will be charged based on your location and the weight of your package. At checkout, you will be given an estimate of your shipping charges. We ship international packages with the US Postal Service, using their Express Mail or Priority Mail Service. We've found that they have the best rates, and get our packages to our international customers faster than any other service. You will only pay exact shipping charges. Buyers are responsible for complying with their countries local and federal tobacco laws and fees associated with their orders, however we can ship as instructed as long as the customer assumes all risks. We mark all customs forms as "Gift" and we send "person" to "person". There is no indication of cigars on the packages. However, we will not be responsible for the package if stopped by customs. If customs happen to stop the package you may refuse it, and have it re-delivered back to us. You must notify us that the package is being returned. You then have the option of us re-shipping the package or we can issue a credit for the amount of the product only. NOT shipping cost. You will be responsible for any additional shipping charges if you decide to have it re-shipped. You agree to pay full shipping amount, due to the final weight of your package. Therefore, we will charge your credit card for the balance upon shipment. Total shipping amount can be verified on the package upon arrival. We ship by USPS Express Mail or Priority Mail.
All sales are final, if package is lost, damaged or held in customs, it is the customer's responsibility. Free Shipping offers are for U.S. destinations only, and cannot be honored on orders being shipped outside the U.S. Your Ship-to Address When you register with AtlanticCigar.com please make sure to include your Ship-To address. This is the default address that you will receive your order. Do not confuse this with your Bill-To address, this is the address that is associated with your credit card. Our system allows for multiple Ship-To addresses. If you would like to add more Ship-To addresses sign into your Member Area on our website and click on the "Address Book" link. On your first order, if your Ship-To address is different than your Bill-To Address, we may have you call in for verification. This is a measure against fraudulent orders.
RETURN / REFUND POLICY
Atlantic Cigar Co. 100% Guarantee of Satisfaction & Return Policy
Non-Tobacco Products: If you are not 100% satisfied with any non-tobacco product that you purchased from AtlanticCigar.com you may return it in original condition within 14 days of purchase for full credit or refund.

Cigars: Damaged items will be replaced, we will pay for all shipping cost. If you are not 100% satisfied with any cigars that you purchase from AtlanticCigar.com, you may return them within 30 days for full credit or full refund for the amount of cigars returned, minus shipping costs. Returns accepted only with original Cellophane Wrapper intact.

Free Promotional Items: All defective free/promotional items must be returned by customer at customer cost. Replacement will be issued when it is received by AtlanticCigar.com.

Directions for Returns: Please call our Customer Service Department (800) 887-7877 or (610) 200-0341 for a Return Merchandise Authorization number within 3 days of receipt of your order to expedite the return(s). When returning merchandise, please repack the item carefully and return it INSURED within the prescribed time(s) above. We will pay for return shipping if your package was damaged or it was our error when it reached you.