Although Gurkha cigars were first created an entire century ago, the brand saw a revival in 1992, which led to some of the premium cigars we have today. This company initially filled a space in the cigar industry by offering luxurious super premium cigars that were at the top of the industry in terms of quality.
These cigars help to create the indulgent, elegant image that many cigar smokers have of the brand today. Since then, Gurkha has expanded to cover a wider range of price points and flavors, making sure that everyone has something they can fall in love with.
Gurkha creates some fantastic products we are always eager to try out, so you can imagine how difficult it was for us to narrow down this list to just five cigar brands. With some consideration, we were able to limit ourselves to just a few cigars that we are loving at the moment, with each one offering something unique from the other.
You can see this as a helpful list of the best Gurkha cigars you need to try right now if you are going to test out some products from the brand. At least one of these cigars is bound to strike a chord with you and make you see what we see in this line of cigars. They are especially easy to recommend to those who already have an affinity for cigars made in the Dominican Republic.
Ultimately, these are our top picks (at the moment) for the best cigars the Gurkha brand has out right now. Look over the descriptions for each one and get a feel for which ones you want to try first.
Cellar Reserve
Among the dedicated smokers of Gurkha cigars, the Cellar Reserve brand is a stand out. These cigars are made from Dominican tobacco leaves aged fifteen years, as long filler. Then these leaves are sealed up in an oily, fifteen year aged Criollo '98 wrapper. This cigar subtly pays tribute to the company's history by focusing on the quality of old school tobacco blending and craftsmanship.
Even the leaves being aged shows that classic love of materials that had the time to mature and develop in flavor. This patience and respect for the ingredients appropriately represents the vintage techniques Gurkha stands by. The results of these efforts are full-bodied cigars that have notes of earthiness, wood, and leather, with cocoa beans emerging from the aroma.
Ghost
Gurkha's Ghost cigars are some of their most popular products. These true medium bodied cigars provide a nice depth of flavor, unlike anything else the company has produced thus far. They are prepared using Dominican and some Nicaraguan fillers, wrapped in a Brazilian Arapiraca leaf.
The Gurkha Ghost cigars come through with flavors that perfectly balance earthiness with sweetness. Cocoa, honey, and cinnamon cut through the earthiness and are accentuated by a touch of black pepper to bring everything together in one rich puff. With such a skillful blend of tobacco flavors, it is no surprise that this has become one of the most popular Gurkha cigars at Atlantic Cigar Co.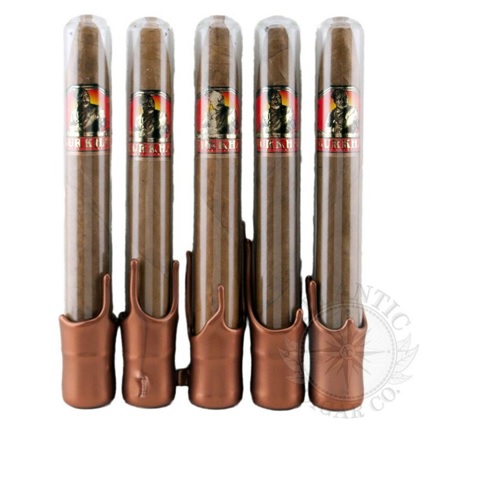 Gran Reserve
The Gurkha Gran Reserve is definitely one of the most elegant and sophisticated cigar brands this company produces. Throughout each detail in creating this cigar, we see quality and luxury. The Maduro wrapper is soaked in Cognac, in a similar fashion as Winston Churchill who would famously dip his cigars in fine alcohols. The filler comes from the Cibao Valley in the Dominican Republic, known for growing ultra-premium tobacco.
All of this careful treatment creates a fascinating cigar with a rich, Cognac infused aroma. It creates a creamy, sweet, almost fruity puff with pepper emerging to cut through the softer notes.
Nicaragua Series
Despite being best recognized for their Dominican tobacco, Gurkha truly outdid themselves creating this Nicaraguan cigar. The Gurkha Nicaraguan Series uses Corojo '99 tobacco as binder, filler, and wrapper, with some Corojo '98 blended in the filler as well.
This pleasant departure from what we expect of Gurkha cigars, gives us a medium bodied cigar featuring notes of leather, earthiness, spice, and dark chocolate. It is a smooth, developed cigar that makes you want to sit back and enjoy the experience all the way through.
Treinta 30th Anniversary
Gurkha honors its 30th anniversary with this specially crafted cigar. The Treinta 30th anniversary uses Nicaraguan leaves for filler with an Ecuadorian Habano wrapper. It is a medium-full bodied cigar that conveys notes of wood, cocoa, spices, and pepper over a smooth, creamy base.
It strikes a good balance between sharp spice and smoothness, so each puff is highly satisfying. Lighting up one of these is a great way to celebrate a special occasion such as an anniversary.
Enthusiasts of cigars and tobacco products should definitely take some time to look over each one of these premium cigars and see if there are any standouts. These Gurkha cigars have been some of our favorite tobacco related products recently, so we felt the need to share this with others who have a penchant for quality cigars.
Give yourself a personal mission to try out a selection of cigars from a company you have never tried before. Start with Gurkha cigars and try out each of the brands listed above to give you a well-rounded view of the company.
Doing so will give you a much better understanding of the line and what they have to offer, allowing you to form your own personal opinions of each cigar you try. Then from Gurkha cigars, you can move on to other reputable cigar makers. We certainly have plenty to recommend.
Check out all of these great cigars right here at Atlantic Cigar Co, and feel free to try out some of the Gurkha cigar brands we didn't include in this list. There are still many more that we love and are happy to share with others, so keep an open mind to all of the fantastic cigar products that are out there.