Founded by Arturo Fuente in 1912, this eponymous cigar brand has steadily evolved over the years to become one of the most popular and recognizable names in the industry. This praise is well-deserved as the Fuente family has been creating premium cigars for generations now.
As long as they continue crafting such impressive premium cigars, we will continue to enjoy them gladly and share them with our fellow cigar aficionados. Being such a well-known cigar brand, we understand that many of our customers will recognize the name and seek out some of their cigars to try at some point.
We want you to be able to approach this brand with some sense of familiarity and an idea of what you are signing up for. So these are some Arturo Fuente cigars that we greatly enjoy and think you would as well. Look over each recommendation and consider which ones you want to include in your next purchase of cigars and other tobacco related products.
Brevas Royale Natural
We really wanted to kick off this list of Arturo Fuente cigars with the Brevas Royale line since we know it is such a popular choice for those still new to this cigar company. This particular range of cigars is one of the more affordable options offered by the brand so it is a great choice for those who want to casually try something new.
The Brevas Royale cigars are not only great for those on a budget, but anyone interested in trying a great tasting Dominican tobacco. Arturo Fuente cigars are well-loved for using tobacco leaves from the Dominican Republic in many of their smokes. They bring out the best to provide people with high-quality cigars, even at a better price in this case.
Brevas Royale Natural cigars are made with Dominican filler and binder with a wrapper from Cameroon. They offer a medium strength, mild blend which makes them great for an everyday kind of smoke, especially for those who prefer smooth, mild blends. The taste is subtle, but provides you with warm, toasty notes that offer some nuttiness, without going entirely earthy.
Churchill Maduro
The Churchill cigars by Arturo Fuente are easily recognized for their long, slim design. These cigars are considered classic by many as they have a taste that feels "old school" and modern at the same time. They feature Dominican tobacco with a dark Connecticut Broadleaf wrapper and give off a great combination of aroma and taste.
These cigars are going to give you notes of earthiness, expressed through toasty, nutty flavors. There are some more mild spices in these cigars which serve to enhance the general earthy profile in a balanced medium cigar.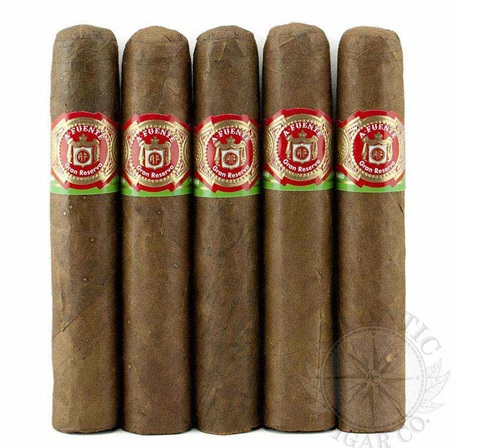 Rothschild Natural
A Rothschild Natural is an excellent choice for premium cigars when you want something medium bodied but still flavorful. This particular cigar is made of aged Dominican tobacco with a flavorful wrapper from Cameroon. These handmade cigars are also perfect for the cigar smoker who loves a highly aromatic smoke that wafts and lingers, allowing you to enjoy the scent and flavors, even as they sit in the air and slowly dissipate.
As flavors go, the Rothschild Natural offers an earthy sweetness that is not overbearing at all and in fact feels very natural to the cigar instead of an artificial sweetness. These warm, earthy flavors with a touch of sweetness are also balanced out by a layer of pepper that brings it all together very smoothly.
Curly Head Claro
Much like the Brevas Royale cigars, the Curly Head line is great as a more affordable option for those who are either budgeting or looking for cigars they can smoke on any given day. The Curly Head line is meant to be a more light medium cigar with a mild flavors that make them very smooth and easy to enjoy on any given day.
Try out the Curly Head Claro cigars if you want something smooth and light. The flavor profile features notes of warm green tea and fresh grass, with a buttery smooth finish.
These were all our recommendations for Arturo Fuente cigars you will want to try immediately. If you really feel like you cannot settle on just one or two Arturo Fuente cigars, you may want to just give in and pick up a cigar sampler instead. That would give you a good number and range of cigars from this brand so you can have a very well-rounded view of this cigar brand.
Explore your options for cigars from this brand and don't be afraid to try new flavors and types of tobacco. Allow yourself to experiment with different cigars and see what is out there on the market right now. It is also a pretty safe bet when you are purchasing from Arturo Fuente brand cigars since they are all so great on their own.
We carry a considerable number of cigars from Arturo Fuente at Atlantic Cigar Co, so you have plenty to choose from even if you decide on ones not mentioned here. Try them out right away and let us know what you think.